Melitta CAFFEO® SOLO® Fully Automatic Compact Bean to Cup Coffee Machine (Pure Black, Stainless Steel) - E950-222.
Only 1 left!
Get it by
Mon, Oct 25th - Sun, Oct 31st
Sold by
ShopperskartUAE.
& Delivered by
Shipping Country:
United Arab Emirates
highlights
Compact espresso machine for home or office, Exceptional and genuine fresh coffee enjoyment thanks to patented Aroma Extraction System involving pre-wetting of beans
Double-Cup Mode for simultaneous pour, 3 intensity settings, Beautiful LED and symbol display with choice of auto-cleaning and descaling, 0-Watt switch for disconnection with settings still intact
Height adjustable spout for a variety of glass and cup sizes, Removable brewing unit for efficient cleaning
Made in Germany, High quality, Comfortable to use, Compact design, Noise reduction system, Conical steel grinder, Energy saving, Descaling system compatible with Melitta filter cartridges
Contents: 1 Melitta SOLO E950-222, Bean to Cup Coffee Machine, Weight: 17.6 lbs, Dimensions (L x D x H) : 7.8 x 12.9 x 17.9 inches, 1 m cable, Water tank (1.2 L), Grain compartment 125g.
We have stood for coffee pleasure since Melitta Bentz invented the first coffee filter in 1908, thereby laying the foundation for the modern coffee enjoyment. This coffee pleasure was then and is now our inspiration to always offer the best quality and unique coffee enjoyment with competence, inventiveness and a love of the product.
Product information "CAFFEO® SOLO® Fully Automatic Coffee Machine (Pure Black)"
Create barista-style coffee at home with the Melitta Caffeo Solo bean to cup coffee machine. With 2 different coffee programmes to choose from, you'll always have a deliciously rich and aromatic drink ready at the touch of a button. You'll never have trouble filling your cups either, thanks to the height-adjustable spout. When you need an extra caffeine boost, the long coffee programme is ideal for creating delicious americanos. The brilliant memory function effortlessly makes the perfect drink every time too, as it will remember all your favourite selections. You won't even have to worry about maintaining this model, as the auto clean function keeps it working at its best.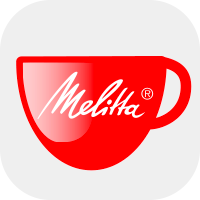 Companion® App
The app includes tips and tricks for delicious moments of coffee enjoyment as well as numerous service features. In addition to information on the perfect coffee, illustrated step-by-step instructions take you through the maintenance programmes. The app also gives you help with understanding the functional status of your coffee machine with the aid of the diagnostic tool.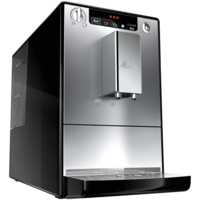 puristic and compact
20 cm wide 32.5 cm high 45.5 cm deep - the SOLO® is one of the smallest fully automatic coffee machines in the world. But still, it has enough room for high quality Melitta technology.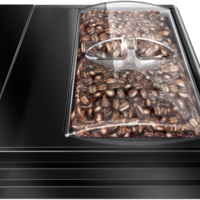 Aroma-Extraction-System
More flavour with pre-brewing: The freshly ground coffee is moistened with water before the actual brewing process. As a result, the flavours dissolve better and where do they end up? In your coffee, of course.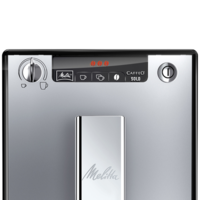 Individual coffee preparation
Coffee enjoyment without compromise: Choose your coffee strength and temperature: with a single turn you can match the amount of coffee to your preferred cup size.
Double Cup Mode
Make two cups of coffee or espresso simultaneously at the touch of a button.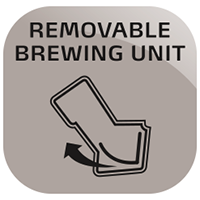 Removable brewing unit
It would be nice if it was simple wouldn't it? With Melitta® it is… The whole brewing unit can be removed and is easy to clean. This makes the inside of the machine accessible too, so it can also be cleaned easily.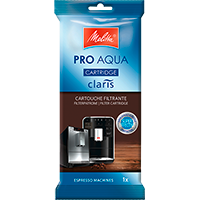 Water filter
To make your coffee taste even better, use a Melitta® Pro Aqua water filter. Another advantage - your fully automatic coffee machine only needs to be descaled once a year**. Why? It's obvious - the filter prevents lime deposits in the water system for as long as possible. **Based on a 120 ml cup 6 cups a day and changing the filter 6 times according to the appliance specifications.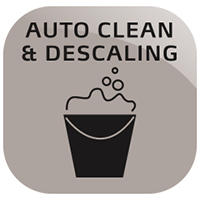 Automatic cleaning and descaling program
Communication is everything. Your fully automatic coffee machine informs you on the display when it needs to be cleaned or descaled.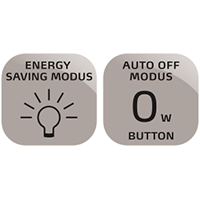 Contemporary energy efficiency
In addition to a programmable energy-saving mode, Melitta® fully automatic coffee machines have a practical Auto-OFF feature. This allows you to determine when your fully automatic coffee machine switches itself off automatically. Of course, you can also disconnect the appliance from the power supply manually using the 0-watt switch.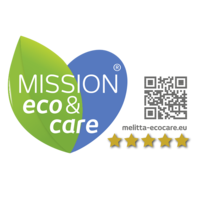 Mission eco & care
We have developed a label, which helps consumers choose an appliance that guarantees conscious enjoyment. The label uses a value system, which we have developed.